Stop in for some cooking hacks and tasty dishes using Olive Oils and Balsamics. 
This month, Chef Michelle, owner of Infused Oils & Vinegars, opens her Unique Tasting Bar to dispel myths and misconceptions of olive oils and share what drives her expanding business. Join us and experience how happy taste buds make great conversations.
Try a variety of appetizers while creating your own mason jar vinaigrette salad dressing or marinade to enjoy at home!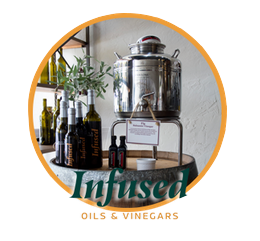 Date
Thursday, June 20

Location
Infused Oils & Vinegars
5225 Belt Line Rd, Suite 208, Dallas, TX 75254
(across from Barnes & Noble)
[Map]

Fee
$10 infused appetizers, wine/water included
Shopping For A Cause:
Thursday, June 20
Infused Oils & Vinegars will donate 20% of all purchases by DtGT members and supporters (both instore and online) to Empowering Women as Leaders (EWL).
EWL provides scholarships for non-traditional female students at TWU/Denton.  Upon accepting a scholarship, she also accepts participating in the mentorship program for up to 3 years following the scholarship. Raise up the woman who's raising up the children.
Thank you for your support.